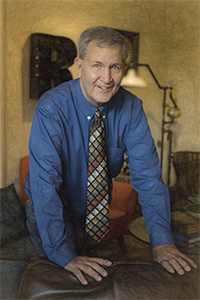 Family Psychologist – retired
(602) 980-1875 mobile
Notice: I am retired as of March 2022. If you need a referral to another provider, please use the link for "Referrals List" at the bottom of this page. If you need to reach me, use the "Contact Me" form below or call my mobile number above.
Child & Adolescent Behavior
Substance Abuse & Addiction
PTSD / Trauma
Depression & Mood Disorders
Anxiety
Anger & Frustration Management
Family Challenges
Social Skills / Social Thinking
Stress Management
Emotional Regulation
Death and Loss
Academic Challenges
ADHD / ADD
Divorce Adjustment
Teen to Adult Transition
Couples Issues
Mark Rohde, Ph.D. graduated summa cum laude from Arizona State, did additional work at ASU, & University of Oxford (England), and was a Mott Foundation Fellow. He holds a Ph.D. in Psychology from the Union Graduate School / Union Institute and additionally completed three years of training with the Post-Graduate Institute for Family Therapy. He most often worked with children, adolescents & families and frequently employed a combination of individual, family and group psychotherapy.
Mark holds Diplomate status with the American Board of Assessment Psychology and has specialty certification in addictions treatment from the American College of Professional Psychology. He is a former teacher who held administrative positions at a private school, an addictions treatment center, a community mental health center, and a residential treatment program. Mark was twice been recognized for "Distinguished Contributions to Psychology" by the Arizona Psychological Association.
He has an interest in computer applications in psychology and is a Founder & Emeritus Board Member of www.notMYkid.org, a non-profit educational organization dedicated to improving the lives of children and families. He is a past president of the Arizona Psychological Association and has served as an Emeritus Board Member. He is also a past president of the Arizona Psychological Foundation. Mark was recognized for "Lifetime Achievement" in 2022 by the Arizona Psychological Association.


Professional Associations
Arizona Psychological Association –

Past-President

Arizona Psychological Foundation – Past

President & current Board Member

American Psychological Association –

Member

American Board of Assessment Psychology –

Diplomate

NAADAC – Member –

MAC Credential (Master Addictions Counselor)

American Group Psychotherapy Association –

Certified Group Psychotherapist
Honors
Aaron & Matty Cantor Award for Lifetime Achievement in Psychology, Arizona Psychological Association, 2022
Distinguished Contributions to Psychology Award, Arizona Psychological Association, 1993 & 2014
Certificate of Proficiency – APA College of Professional Psychology, Treatment of Alcohol and Other Psychoactive Substance Abuse Disorders, 1996+
American Board of Assessment Psychology, 1993
Max Jones Research Award, Arizona Association of School Psychologists, 1986
Charles Stuart Mott Foundation Fellowship, 1980-1981
Arizona State University, "Special Scholarship", 1972
Arizona State University, Academic Scholarship, 1970-1972
Arizona State University, Medallion of Merit Award, 1970
A Little About Me
I Grew Up In…
California until age 14, then Arizona
Hobbies
Scuba diving, travel, videography and energy conservation
Favorite Books/Movie/Music/Foods/Band/etc.
Books = something by McCullough, Clancy, Kemprecos, Cussler or Baldacci
Movie = "The Longest  Day"
Food = Thai, Mexican or German
Bands = Moody Blues, Metallica
I'm Known For…
Creativity, humor, energy and connecting
One Person I Wish I Could Meet or Could Have Met
Benjamin Franklin
My Most Embarrassing Moment
Whoa . . . it's too embarrassing!
Something I'm Very Proud Of
My wife and son
The Craziest Thing I've Done
Scuba diving with sharks in Cuba
My Greatest Annoyance
Political gridlock
An Important Thing I Learned as a Child or Teen
Losses create gains – gains create losses
My Worst Job Ever
It's a tie – working as a night janitor and a summer job on a highway road crew between Ahwatukee & Casa Grande
Favorite Quotes
"When you're going through hell, keep going." Winston Churchill
"Be who you are and say what you feel because those who mind don't
matter and those who matter don't mind." Dr. Seuss
Something I Would Love to Achieve
Solve a Rubik's Cube without a guidebook
One Item I Should Definitely Get Rid of But Probably Won't
Old hiking boots
One of My Favorite Games/Toys When I Was a Child
Not exactly a toy, but I loved my microscope
If I Were Not Able to Use Any Electronic Devices for a Week, I Would…
Enjoy the peace.
Scottsdale Office
8124 E Cactus Road
Suite 410
Scottsdale, AZ 85260
(602) 494-1515 Office
(602) 494-3131 Fax
Contact Me
I look forward to hearing from you. Complete the form below, hit Send, and I will get back to you as soon as I can.  Please DON'T use this form for emergency services as there is apt to be a delay in my response.