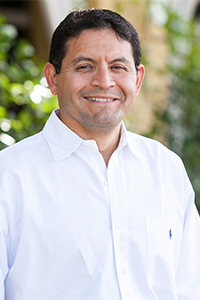 Licensed Psychologist
– EMDR Certified Therapist
– Trauma Specialist
– Couples Therapist
(480) 784-7561
(602) 494-3131 Fax
PTSD

Trauma-related disorders

Anxiety

Depression

Anger management

C

ouples counseling
Dr. Garcia is a licensed psychologist in the state of Arizona, #3625. He received his doctorate in counseling psychology from Arizona State University. Dr. Garcia has worked in various clinical settings from hospitals, university counseling centers, managed care, to community mental health centers. Currently his practice focuses on adults and couples. Dr. Garcia specializes in PTSD, other trauma-related issues, depression, anxiety, anger, and couples/marital discord.  
Dr. Garcia is EMDR certified by EMDRIA. He is also trained and certified by the Department of Veterans Administration in Prolonged Exposure and Cognitive Processing Therapy. Dr. Garcia is also specialized and certified in Cognitive Behavioral Therapy and Integrative Behavioral Couples Therapy.  Dr. Garcia also received specialized training from the Meadows in Post-Induction Therapy and was trained directly by Pia Melody.  Dr. Garcia has advanced training in Exposure and Response Prevention for OCD from the Institute of Cognitive Behavioral Therapy.  
While most of the treatments are protocol-driven, Dr. Garcia customizes treatments to fit your psychological needs. You can count on Dr. Garcia being directive, deliberate, and results-oriented in his approach with you in order to get your treatment completed in a timely fashion. Dr. Garcia believes that you come to him not only to "feel better" but also to "get better. Under Dr. Garcia's care you will develop skills and acquire tools to cope with current problems as well as prepare for future ones. Dr. Garcia would really like to see you  "become your own therapist" and rely more readily on your own resources. Dr. Garcia considers your therapy a success when you are able to "apply skills" to your daily life. You can rest assure that Dr. Garcia will provide you with a safe, comfortable healing environment, wherein you will receive his caring, compassion and acceptance. Dr. Garcia adheres to best psychological practices and ensures that you receive the highest standard of patient care and is here to help you on your path of healing.
Professional Associations
EMDRIA

Arizona Psychological Association

Association for Behavioral and Cognitive Therapies
Honors
United States Army Reserves, Combat Medic, Honorable Discharge

Married for 18 years

Two daughters, 13 and 10 years old
Advanced Practice Credentials
EMDR

Cognitive Processing Therapy

Prolonged Exposure

Integrative Behavioral Couples Counseling

Exposure and Response Prevention (ERP)
A Little About Me
I Grew Up In…
Colorado River Indian Reservation, near Parker, AZ
Hobbies
Playing with my daughters, 13 and 10 years of age
Favorite Books/Movie/Music/Foods/Band/etc.
Books =  Daring Bravely, Brene Brown
Movie =  Gladiator
Food =  Chile Rellenos
Bands = Michael Jackson
I'm Known For…
Being a "family man"
One Person I Wish I Could Meet or Could Have Met
Abraham Lincoln
Something I'm Very Proud Of
Raising 2 happy daughters
The Craziest Thing I've Done
Hiked the Grand Canyon in one day
My Greatest Annoyance
Not having enough hours in the day
An Important Thing I Learned as a Child or Teen
Perseverance
My Worst Job Ever
Guiding a crop dusting plane as it sprayed fields with pesticides
A Favorite Quote
Serenity Prayer
"God, grant me the serenity to accept the things I cannot change,
Courage to change the things I can,
And wisdom to know the difference."
— Reinhold Niebuhr
Somethings I Would Love to Achieve
"grow old with my wife"
"see my daughters accomplish their dreams"
One Item I Should Definitely Get Rid of But Probably Won't
Military gear
One of My Favorite Games/Toys When I Was a Child
Stretch Arm Strong
Something That Really Annoys Me
Texting while driving
Scottsdale Office
8124 E Cactus Road
Suite 410
Scottsdale, AZ 85260
(480) 784-7561
(602) 494-3131 Fax
Contact Me
I would love to hear from you. Complete the form below, hit Send, and I will get back to you as soon as I can.
Forms
Click the buttons below to download the forms you will need for your first visit.